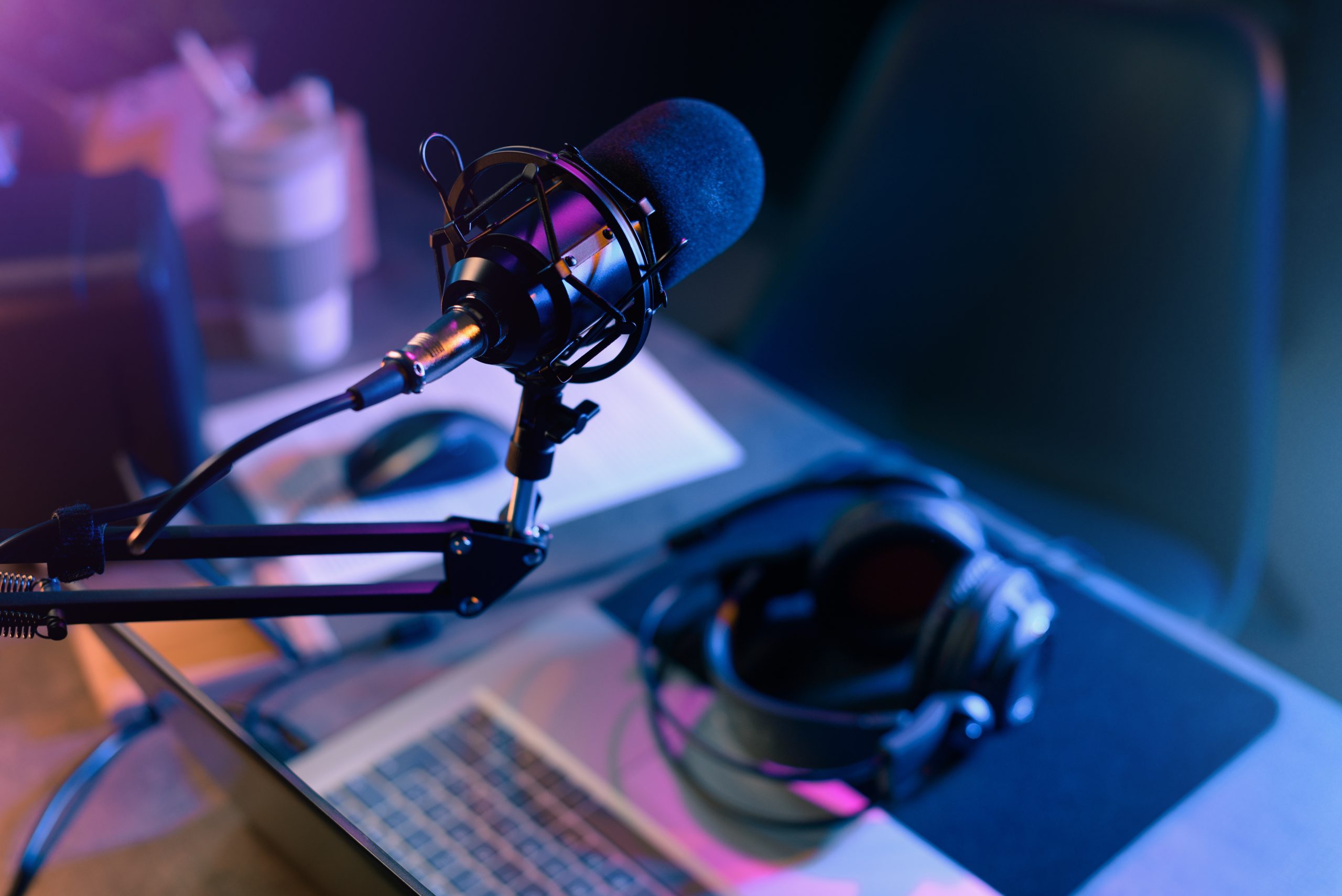 Podcast Production
Podcasts have exploded in popularity in the last few years. According to Pew Research, in 2021 over 41% of Americans 12 and older had listened to a podcast in the past month. That number is up from 21% just five years prior, and it continues to increase each year. Podcasting is becoming America's preferred audio platform. There are more listeners available to podcasters now than ever before and that number continues to climb daily. Joe Rogan's podcast has grown explosively in the past few years to become the most listened to broadcast on planet earth. As a result, more and more consumers have become familiar with podcasting as friends and neighbors shared Joe's take on the world. That explosive growth in popularity knocked the world of broadcast media on it's head like an MMA fighter delivering a swift kick to the head of their opponent, and the world of digital media will never be the same!
But Can't Anyone Have a Podcast?
What's more, is anyone with a little know how and the right equipment can create a podcast. All it takes is a microphone and a computer with an internet connection, and off you go. The problem is because of it's simplicity, EVERYONE and their brother is starting a podcast nowadays. The market is flooded with sub-par, poor sounding, poorly edited garbage that makes the average consumer's ears bleed. It doesn't matter how great your content is - if the quality of your broadcast is lacking you're going to lose listeners. The quality of the medium you use is part of the message consumers are hearing, and if you want your medium to scream quality you need to contact Dubya Digital.
Podcast Video Production
One element that's often underutilized that can set a podcast apart is high quality video. You have the option on most podcasting apps and platforms to include video for your podcast. Most podcasters do not include video, and many who do include video of such a quality that they should bury it in their backyard instead of posting on the internet. When you utilize Dubya Digital's professional podcast videographer for your podcast production, you can take your broadcasting experience to a whole new level. When you up the quality, you will inevitably up your listener count because you're putting a product out that stands head and shoulders above the competition in terms of quality.
Podcast Audio Production
Anybody with a microphone and an internet connection can create and broadcast a podcast nowadays - BUT, not all microphones are created equal. At Dubya Digital, our audiophiles will bring our very expensive and studio quality audio equipment with us to lay down your audio. Our mobile studio will blow any of your amateur competitors out of the water in terms of audio clarity and crispness. At Dubya Digital, we believe in crispy - crisp, crisp - crispy audio. Our owner is a former radio personality and he learned to be OCD about audio quality as a young man. But his personality disorder is your gain because it translates into outstanding service in Podcast Production from Dubya Digital.
Podcast SEO
Dubya Digital is a Digital Marketing Company with a long history of keeping up with the latest and greatest trends in SEO. Since we handle website development and client SEO all the time, we're familiar with what makes search engines tick and that experience on the wider web translate to podcasting SEO as well. Our experience in ranking websites is to your benefit, because just like we can get users to visit our client's website we can get users to visit our client's podcast as well. That translates into more potential customers being exposed to your broadcast meaning higher ad sales, products sold, and ideas shared.
Podcast Website Development
You don't already have a website for your podcast? In addition to professional podcast production Dubya Digital can also handle the creation, hosting, and maintenance on your podcasting website. We will set you up with a slick site that's fast, easy to use, and that will shoot your broadcast out via RSS feed to every major podcasting platform each time you upload a new show. We will teach you how to craft written content for your podcast episodes that are optimized for SEO and hitting the keywords that will bring your potential listeners to your show. You may have a podcast producer in your corner, but does your podcast producer also own an SEO company? Yeah, we didn't think so. Call us and let's get cooking.